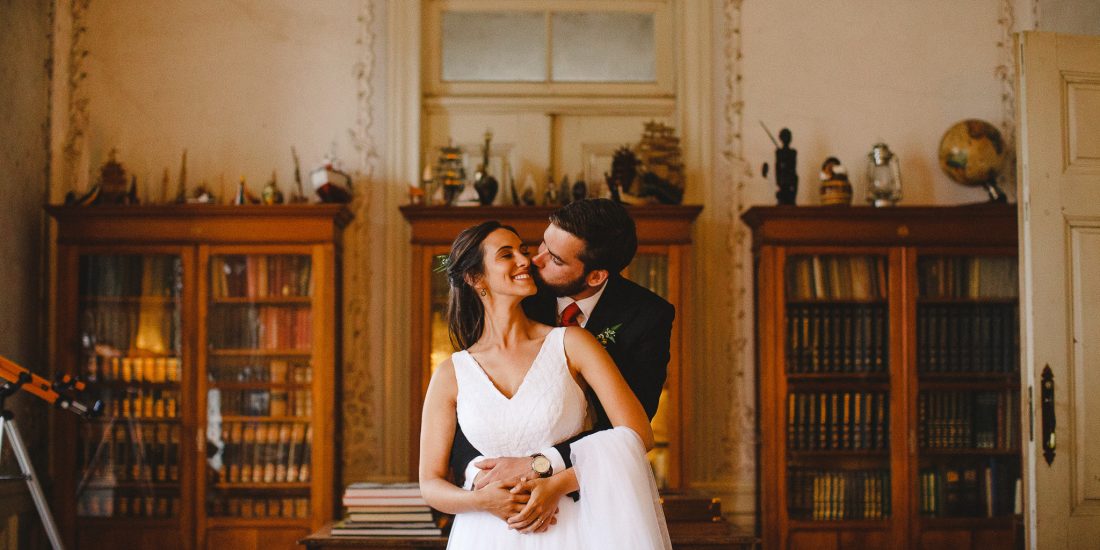 (scroll down for english)
Ainda me recordo de receber o email da Margarida a pedir um orçamento para o seu casamento e a contar que já conhecia o meu trabalho, porque eu tinha fotografado o batizado do sobrinho dois anos antes. Marcámos uma reunião e contaram-me os detalhes todos do casamento e eu fui para casa a torcer o mais que podia para que me escolhessem para fotografar este casamento. Tinha todos aqueles detalhes que me fazem vibrar neste trabalho.
O casamento seria na casa da família do António numa aldeia pequenina entre Viseu e S. Pedro do Sul. Iriam preparar-se ambos lá, mas em zonas distintas da casa, a cerimónia seria numa igreja pertinho e depois tudo se passaria no jardim da casa de família. Descreveram a casa e os jardins, os vários recantos e ainda que queriam ter uma banda filarmónica a dar as boas-vindas aos convidados depois da cerimónia. E flores, muitas flores. E eu fiquei de sorriso rasgado quando me disseram que queria que fosse eu a fotografar.
Um ano depois a Alice já ia no ninho, o Matheus foi comigo para assegurar o número composto de convidados e foi um dia maravilhoso. E foi há precisamente dois anos. Parabéns Margarida e António, que contem muitos e muitos mais anos!
**
I still remember receive Margarida's email asking for a quite for her wedding and letting me know that she already knew my work, as I had shot her nephew's baptism two years before. We set up a meeting and they told me all the details for their wedding and I went home begging the universe to be the one shooting this wedding. It had all those details that make me feel deeply happy for having this job.
Their wedding would happen on Antonio's family house in a small village up in the north of Portugal. They would both get ready there, but in different sides of the house, so that they wouldn't see each other, then off to the church and then back to the house where everything else would happen. They were even planning for a philharmonic band by local folks to welcome the guests after the ceremony. And flowers, lots of flowers everywhere. So yes, I was dancing when I got their email saying they wanted to go ahead and book my services.
Alice was already on my belly, Matheus came with me to handle the many many guests and it was such a wonderful day. And it was exactly two years ago! Happy anniversary Margarida and Antonio! I hope you count many many more!
Vestido: Inês Pimentel
Weddind-Planner: Outlux Weddings & Events
Video: We Love Film
Pedir informações * Ask for info!
Outros Casamentos / Facebook / Instagram / Pinterest