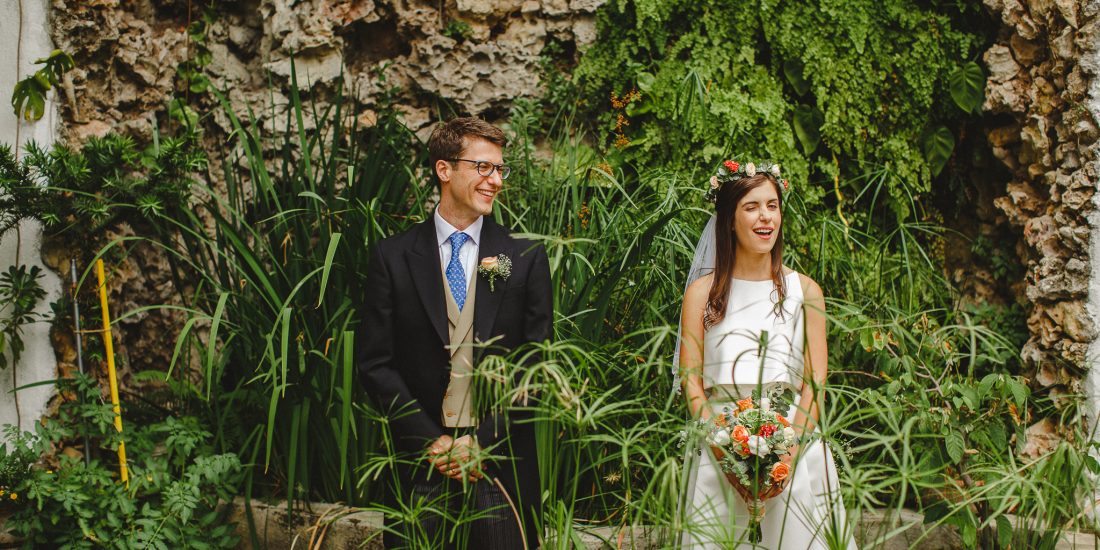 (scroll down for english)
Este dia foi tão, mas tão bom… que tenho saudades! Ao contrário do que é habitual não estive com nenhum deles antes do casamento, mas lembro-me perfeitamente de reunirmos por Skype e foi como conversar com amigos de longa data. E sabemos que quando a conversa flui dessa forma, só pode ser bom sinal!
E claro que foi! Começou até por ter a localização que, se já me vão lendo por aqui sabem que adoro, porque ambos prepararam-se entre Alcântara e a Ajuda, o casamento foi naquela que foi a minha rua na Ajuda, e a festa na Estufa Real, portanto uns metros mais acima. Tudo numa altura em que eu já não morava naquela zona, mas estava sempre cheia de saudades.
Mas vamos ao casamento! Que casamento bonito, que pessoas fantásticas, que amigos bem-dispostos e que primeira dança! Sim, a primeira dança, mas já lá vamos! A Ana e o Chris têm uma cumplicidade invejável e um amor que transparece a cada olhar. E apesar de não os ter fotografado antes do casamento, a sessão deles terá sido das que mais me divertiu e que me deu fotografias mais bonitas!
E a Ana colocou a cereja no topo do bolo quando na primeira dança, todos esperavam ansiosos pelos noivos (e cantou-se o Grândola Vila Morena no entretanto), mas eis que entra o Chris como quem vem puxar pelo público e momentos depois entra então a Ana… de patins ao som de "Holding out for a hero" de Bonnie Tyler! Dos melhores momentos sem dúvida alguma!
**
This day was so, but so good… that I actually miss it! Unlikely what is the usual, I just met them over a Skype meeting and then on the wedding day. But I remember that the Skype meeting went so well, that it felt like old friends getting in touch! And that is always a great sign!
And it was indeed! It started by having a great location, which if you're a regular here on the blog, you know that I have a soft spot for a particular neighbourhood in Lisbon – Ajuda. So they got ready around the area, got married on what was once my street and had their bridal party just a few meters ahead on the Botanical Garden. As I had moved out of that neighbourhood a few months before, going back felt so good.
But let's get to the wedding! It was so pretty, and so much fun! They had such great guests, always in a good mood… and last, but not the leats – the first dance! Yes, first dance! I'll get there!
They have such a nice energy between them, always having so much fun together, and you can see their love every time they look at each other. And though we didn't do an engagement shoot, their bridal shoot was one of the best!
Ana was the one putting the cherry on top of the cake with the first dance! So picture this, everyone waiting for the couple to enter the room for their first dance… and while they waited, they were singing. Then Chris gets in and gets the crowd ready for Ana… who enters the room in her rollerblades while Bonnie Tyler sang "Holding out for a Hero". If this isn't a winner first dance, then I don't know what it is! Enjoy!
Pedir informações * Ask for info!
Outros Casamentos / Facebook / Instagram / Pinterest