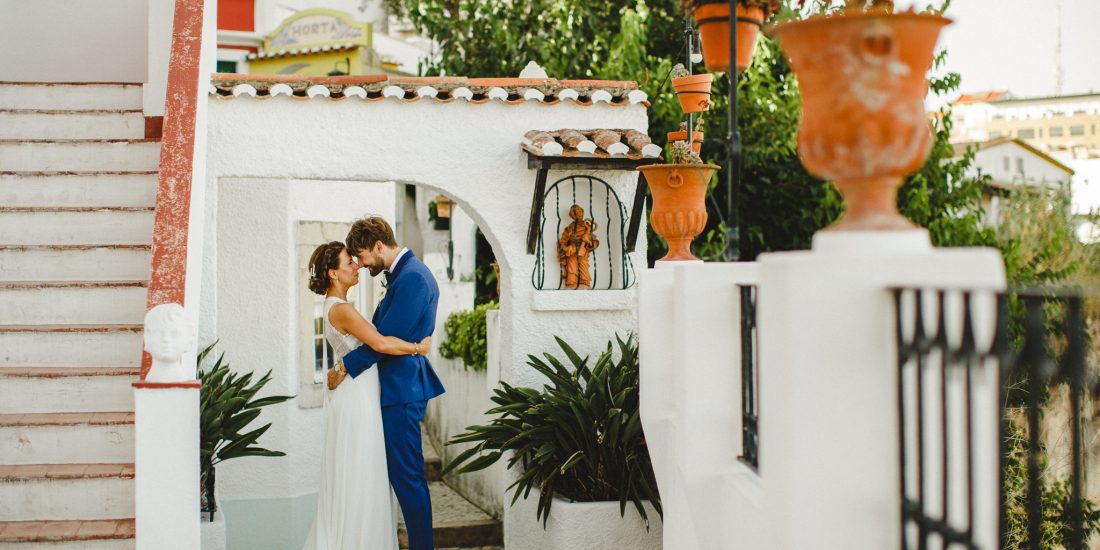 A Joana e o Andreas são alemães e escolheram Portugal, mais concretamente Lisboa, aliás mais concretamente escolheram a Ajuda para casar. Mas esta que poderia ser uma história simples de um destination wedding em Portugal, tem outros contornos curiosos.
Na realidade a Joana nasceu cá, o pai em tempos trabalhou no Porto e a Joana acabou por nascer aqui e passar os primeiros anos de vida no nosso país. Depois do regresso a Alemanha, acabou por voltar a Portugal várias vezes de férias com a família, e quando o Andreas passou a fazer parte da vida dela, ambos vinham cá de auto-caravana passear pelo país. Por isso escolherem casar cá fazia também muito sentido.
Claro que encontraram algumas dificuldades, casar pela Igreja quando ambos são estrangeiros e quando na paróquia ninguém fala inglês… tem os seus desafios! Mas quis o destino que tudo acabasse por se resolver e o dia aconteceu da forma mais bonita!
Outros detalhes curiosos são o tema do casamento – Azulejos e Lisboa e ainda o facto de terem escolhido apenas fornecedores nacionais, e em particular só mulheres! Reparem no bonito bastidor com as alianças feito pela Jubela, a maquilhagem sempre impecável feita pela Joana Moreira, as flores pela Marta da Flow, a peça do cabelo da talentosa Cata Vassalo…
Olho para este casamento e sinto mesmo saudades deste dia! Inspirem-se também!
**
Joana and Andreas are both german and chose Portugal, more precisely Lisbon, actually even more precisely Ajuda area to get married. And though this could be yet another destination wedding in Portugal story, it has a few other details that make this a curious story.
Actually Joana was born here, her father worked for a few years in Oporto and Joana was born here, thus ending up spending her first years of life here. In the meantime they went back to Germany, but came back several times for holidays with her family and when Andreas came along, they both visited the country in a motorhome, so getting married here would make a lot of sense after all.
Of course that they found some issues, because being foreigner and wanting to get married in church, when no one speaks english in the parish… well, it was quite challenging to say the least! But they really wanted to get married here, and didn't give up, so their day happened in the most beautiful way!
Some other curious details about their wedding: their theme was tiles and Lisbon, so everything was covered in beautiful blue shade and they chose mainly women vendors for their wedding, being almost all Portuguese. Take note about the ring bearer made by the talented Jubela, Joana's make-up artist who is one of the most amazing ones in our country for sure – Joana Moreira, and flowers by Marta and Cata Vassalo with the gorgeous headpiece and yours truly doing the photography part!
I go through these images and sincerely miss this day! I hope you feel inspired by it!
Pedir informações * Ask for info!
Outros Casamentos / Facebook / Instagram / Pinterest