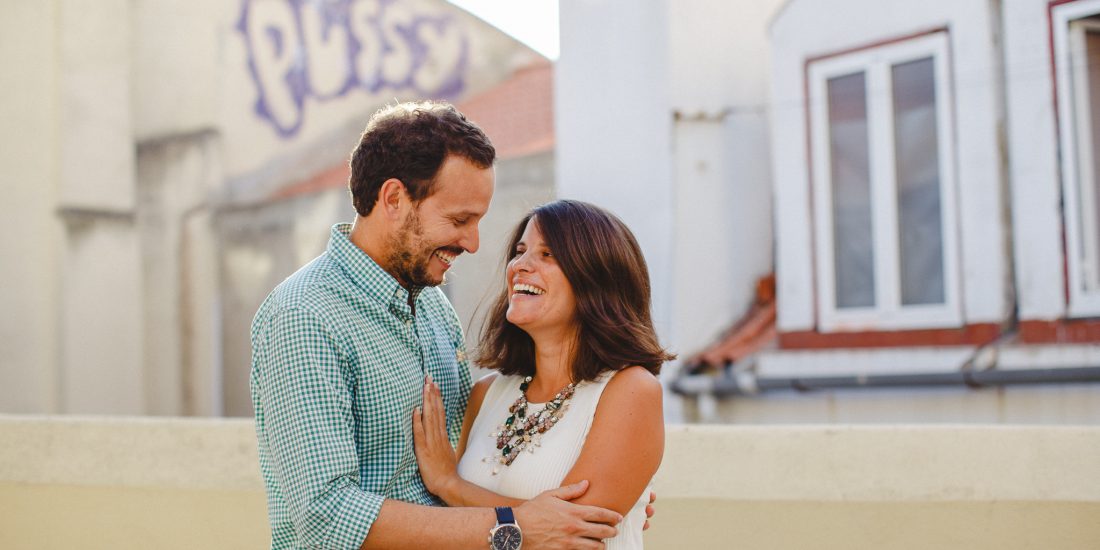 Se há algo que eu quero que transpareça no meu trabalho é que é todo feito cheio de luz e da forma mais descontraída, sem obedecer a poses e a regras disto e daquilo para cada tipo de sessão. Nas sessões de família as crianças não têm de estar penteadinhas e de camisa por dentro das calças, nas de gravidez não tem de ser só sobre uma barriguinha proeminente e um bebé que lá vem, e nas de namoro não tem de haver apenas beijinhos e abraços.
Apenas quero que se divirtam, que gostem do passeio, que as crianças brinquem como querem brincar, que se deixem ir e se esqueçam que alguém que não conhecem vos está a fotografar… e que confiem em mim quando digo que o melhor é fazermos ao fim do dia, ali junto ao pôr-do-sol. Há coisas das quais (quase) nunca se abdicam!
A Daniela e o Miguel estavam à espera do Xavier e quiseram fazer uma sessão pelas ruas de Lisboa. Começámos no Martim Moniz e fomos subindo até à Costa do Castelo. Aliás já tenho saudades de fazer este passeio! Contaram-me a história deles, o que achavam que iam ser os meses seguintes após a chegada do pequeno Xavier e deixaram-se ir. E esta é a melhor parte de uma sessão fotográfica!
**
If there is something that I want my work to be strong about is that is all filled with light, and you do this in the most relaxed way, no rules about posing and about this or that. In family photo shoots I need kids to play and for parents to not be worried about the children being with their shirts tucked in, in maternity shoots, it's not all about a belly and a baby on the way, and for engagement sessions you don't ned to be extra loving or do something that it's not exactly you.
I want you to have fun, enjoy the stroll around town, I want kids to play and I want everyone to forget that there's a strange person taking pictures of you… in the end I just want you to tell me about yourself and trust me when I tell you to do all of this two hours before sunset. There are things that you (almost) never let go!
Daniela and Miguel were expecting their first baby boy and wanted to remember this moment. They laughed, told me about their story, what they were expecting the following months with a new baby to be and just let go. And that is the most amazing part of a photo shoot!
Pedir informações * Ask for info!
Outras Sessões de Gravidez / Facebook / Instagram / Pinterest