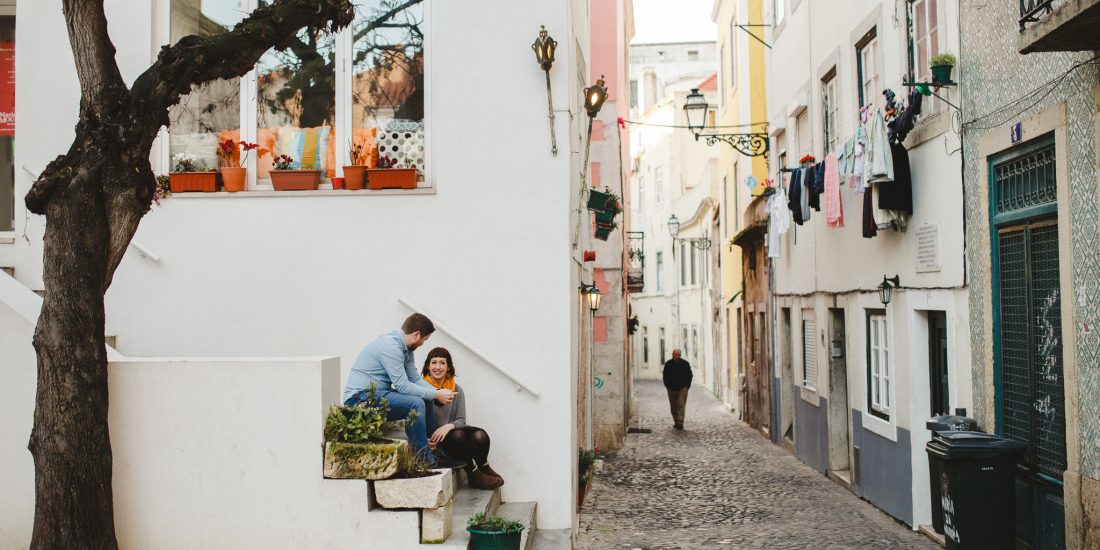 A Adrienne e o Pauric vieram da Irlanda para casar em Portugal – na Quinta do Hespanhol, outros dos meus sítios favoritos e onde me sinto em casa a fotografar. Para a sessão quiseram passear pelas ruas típicas de Lisboa e foi uma sessão que reflecte o que mais gosto – caminhámos, contaram histórias para nos conhecermos melhor, rimos bastante e percebemos que o dia de casamento ia ser mesmo bonito, se o espírito fosse aquele.
Já fotografo casamentos desde 2012 e posso considerar-me feliz, porque as pessoas que chegam até mim vão sendo todas muito descontraídas e que vivem o dia do casamento de forma muito feliz. A Adrienne e o Pauric reflectiram isso exactamente. Riram o dia todo, estavam nas nuvens quanto ao local que escolheram, quanto às pessoas que tinham ali, e fizeram de tudo para aproveitarem o dia da melhor forma.
Por isso sim, esta sessão espelhou exactamente o que ia ser o dia do casamento daí a uns meses! Vamos a um passeio por Lisboa?
**
Adrienne and Pauric came from Ireland to get married in Portugal, in Quinta do Hespanhol which is one of my favorite venues around here, and where I feel at home when shooting. For their engagement shoot however they wanted to go for a stroll around the typical streets of Lisbon, so I took them around some of my favorite corners.
And it was delightful, we walked, we laughed, we told stories about ourselves to get to know each other and realised that if the wedding day had that very same energy, it would certainly be an amazing day.
I have been shooting weddings since 2012 and I can consider myself a happy person, because most people that come to me and ask me to shoot their wedding, are this kind of people – relaxed, laid-back and that just want to have fun on their wedding day. Adrienne and Pauric had that same energy and they had a blast on their wedding day, enjoying the place they chose, the people they invited and had a smile on their faces throughout the whole day!
So yes, this engagement shoot reflected what we would have in a couple of months during their wedding! But for now, let's go for a walk in Lisbon?
Pedir informações * Ask for info!
Outras Sessões Love-Birds / Facebook / Instagram / Pinterest