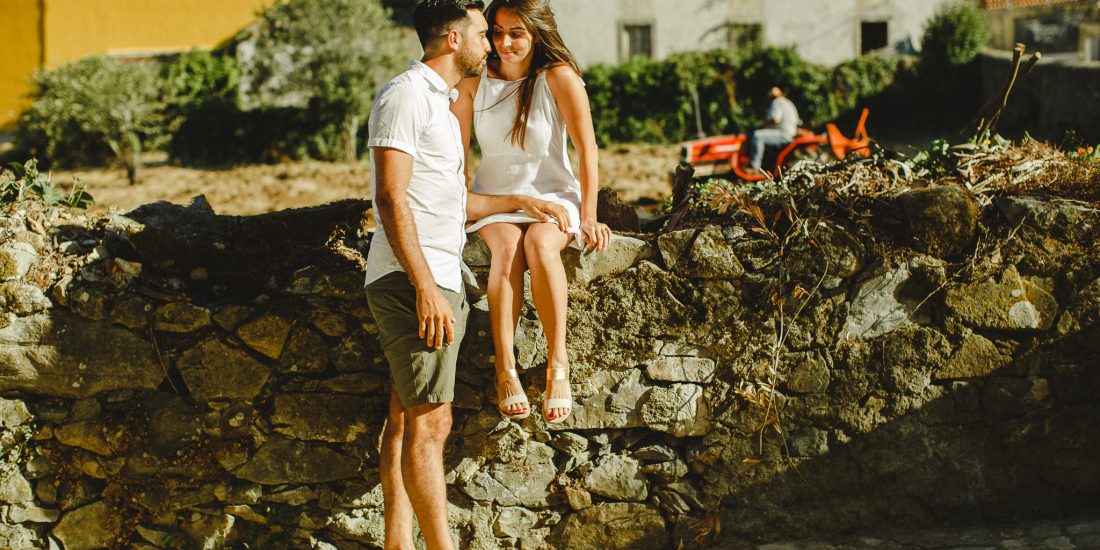 Que saudades de andar livremente a passear e a fotografar! Sintra é daquelas vilas que tem mais recantos que todas as outras vilas… e não há discussão. E a arquitectura em Sintra é deslumbrante, para quem gosta deste género assim, antigo… eu fico a pensar nas histórias que estas casas já viveram e adorava poder espreitar umas quantas.
Por isso quando a Nicole e o Faraj disseram que gostavam de fazer a sessão de namoro por Sintra, eu aprovei logo a ideia! Claro que sim, vamos dar um passeio pelas ruas escondidas que formos encontrando!
A Nicole e o Faraj vivem em Londres, mas porque a família da Nicole está cá e ela é portuguesa, decidiram casar por cá, na bonita Quinta de Sant'Ana! E claro, na próxima semana teremos o casamento pelo blog!
Mas antes do casamento, voltemos à sessão e o quão divertida foi! Ambos estão constantemente a rir e a brincar um com o outro e para quem os fotografa… isto é só delicioso!
**
Oh how I miss going out for a walk to take pictures! Sintra is one of those towns with more secret and charming corners to photograph than any other small town, end of discussion! Its architecture is also a dream, for everyone at least who enjoys this kind of architecture… so many old, yet charming, often decayed as well, houses which make think and dream about their stories. And I would definitely love to take a sneak-peek into a handful of them!
Nicole and Faraj live in London, but as Nicole is portuguese and her family is here, they decided to get married here. They chose the awesome venue of Quinta de Sant'Ana and I also had the honor to shoot it! It was such an amazing day! But we'll talk about that next week!
Now let's get back to their engagement shoot! They asked about their shoot being in Sintra and I immediately told them a very excited "YES, let's do it!", because it would be very interesting to just go and explore hidden streets. So that was exactly what we did!
They are such a cute couple, always laughing with each other, having so much fun together, so for me it was so easy to capture their love and amazing bond!
Pedir informações * Ask for info!
Outras Sessões Love-Birds / Facebook / Instagram / Pinterest